One of my biggest fears while pregnant with twins was the danger of premature labor. We counted each day, each week, knowing that the longer they stayed in, the better our chances of bringing home two healthy babies. While we know we were extremely lucky to go full-term, we realize too many families experience a completely different reality. In today's
"Unwrapping Our Gifts"
post, one of my favorite fellow twin mommy bloggers, Mandy of
Twin Trials and Triumphs
, shares her family's special story and one way she has found to help others through the gift of shared experience.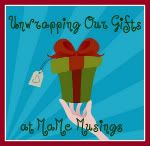 Our twin girls were born six weeks early, weighing about four and a half pounds each. We were so blessed that they required minimal assistance, and after 10 days in the NICU, they were ready to come home.
I knew we were very fortunate that our girls were so healthy…but at the time, those 10 days in the NICU seemed like much longer. I remember feeling so helpless, and so confused. And one of the hardest days of my life was the day I was discharged from the hospital without my babies. It was so far from what I'd imagined.
Fast forward a couple of years, and those NICU days – while still crystal clear in some ways – were far behind me. My girls were healthy and happy, and if anything, the challenges during the girls' first few days made me even more appreciative of my blessings.
Shortly before the girls' second birthday, I received a call from the NICU, asking if I would be willing to volunteer as a "support parent", as part of a new program they were starting.
I tentatively said yes. I felt like it was the "right" thing to do…but – to be completely honest – part of me dreaded facing that environment again.
I was completely engaged at home, singing songs, reading books, and playing endless games of pretend with my amazing girls. I feared that the sights and sounds and smells of the hospital would bring back too many emotions.
For the first year or so, I visited the hospital when they called me, on average about once a month. I'd psyche myself up beforehand, preparing my game face. I'd let myself be reminded of those emotional days of the girls' early infancy, and then I'd focus on trying to help another family who was dealing with a similar situation.
The visits could be challenging for me, but I always felt like I'd made a positive impact afterwards. (And they reminded me to squeeze my girls extra tightly when I got home.)
Ahead of the girls starting preschool this past fall, I talked with the NICU about volunteering more regularly. To once again be completely honest, I was a little bit torn. For the first time in close to four years, I'd finally have some "off" time. Did I really want to spend part of that each week in such an emotionally-charged environment? But again, I felt like it was the "right" thing for me to do.
Four months later, I am so thankful I made the call.
Every Tuesday morning, after I drop the girls off with their beloved teachers and friends, I head to the hospital. No longer do I have any nervous anticipation. I see the same nurses who took care of our beautiful girls. I get to know the families who are in for the long haul. And – if I'm lucky – I sometimes get to be among the first to congratulate a new mom.
I do my best to be a good listener, and – when I feel it's appropriate – to talk about some of our experiences in the NICU. It can be a delicate balance, but I try to respectfully share what I found as the ultimate blessings of this challenging time.
***
When Melissa asked her readers to share their "gifts" during this holiday season, I was a little apprehensive about putting myself out there in this way. Please know that I don't mean to toot my own horn, or to ask for a pat on the back.
I want to say, though, that I think – for many different reasons – it can be intimidating to volunteer. How can I help? What can I do? Do I really have the time? What if my contributions aren't valuable?
My experience over the past couple of years has taught me to look for something I'm truly passionate about…in this case, my healthy girls…and let that be my guide.
For me, once I found that "right" place, the rest has fallen into place. I am so thankful to be able to give back a tiny bit of myself to a place that gave me so much…a healthy start for my baby girls.