Looking for MaMe Musings? Caving under the last-minute holiday pressure, we've skipped blogs and are hanging for the day over at
Multiples and More where I am guest posting about Christmas Jars
. Don't worry. I've left this space in good hands! The awesome Diana, of
The Artist and the Mommy
, is blog-sitting for us today, and she's sharing her family's Christmas card tradition. As you will see, not only is Diana talented with a colored pencil, she is insanely witty and hopelessly in love with her sweet family. Be forewarned. After reading this post, you may never want an ordinary Christmas card again!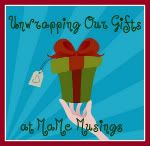 ---
When my husband and I shared our first Christmas together as husband and wife back in 2007, we knew that we wanted to do something special to mark the occasion.
"Why don't we create our own Christmas cards to send out to family and friends?" he asked. "You can draw pictures of us for it," he added.
Up until that point, I hadn't thought much about art. Drawing pictures was something I used to spend my days doing as a child. As I grew up, I still liked art, but I lost my passion for it along the way. College, teaching, working – they all seemed to take precedence over something I used to enjoy so much. For whatever reason, once my husband posed the challenge to draw our own Christmas cards, it recreated the spark I once had for drawing.
After collaborating our ideas that year, we came up with these Christmas card designs: an imitation of Kristi Yamaguchi and Brian Boitano with a message reading "We hope your holiday season scores a perfect 10" and of a National Lampoon-ish Christmas Vacation remake that we did for our nieces and nephews with a message reading "Nothing says Christmas like chestnuts roasting on an open fire, Jack Frost nipping at your nose, and your Uncle Jason at the emergency room. Merry Christmas! Be safe and happy!"
It wasn't until I created these cards that I realized how much I missed drawing and creating. Every year since, we have put our heads together to come up with a theme or a concept for each card. Sometimes the cards reflect our interests in that moment in time; sometimes they reflect the things that are most influential in our lives at that moment.
In 2008, we recreated the infamous scene from the
Christmas Story
movie. The message on the card read, "'I hope that came with a receipt.' Hoping you have a holiday devoid of deranged Easter bunnies and pink nightmares."
A Christmas Story
is one of my all-time favorite Christmas movies. There is something about the dysfunctionality and humor in it that we could relate to:
In 2009, it was all about mustaches. That year, my husband raised money for breast cancer research after learning that his sister was diagnosed with it that summer. He vowed to grow out his mustache – for every $5 donated, he would go one day without shaving... He didn't shave for nearly eight months!
In 2010, I became pregnant with our first child. As much as I wanted to create a card that year, I just physically couldn't bring myself to do it. (Pregnancy can wipe a woman out of her creative juices.) We skipped a hand drawn card that year and sent out a picture of my pregnant belly and ultrasound picture instead. (That has been the only year, so far, that we've skipped.)
In 2011, the tradition came back with a vengeance as we incorporated our daughter, Izzy, into the design with an ode to Elton John. (Each of us is wearing an iconic outfit from Elton John's career.) The message on the card read, "Elton John's 'Step Into Christmas' always kick starts the holiday season for the Patten family. After all, it was Tiny Tim who once said, 'God bless us, Elton John.'" Ever since my husband was a boy, he has enjoyed Elton John's music (a leftover influence from his older brother, I'm sure). And nothing says Christmas more to him than Paul McCartney's "Simply Having a Wonderful Christmas Time" and Elton John's "Step into Christmas." The first time he hears either song come on the radio, he officially declares it Christmas time.