Today I am excited to welcome back Tasha from
One Day at a Time
. You may remember Tasha from last year's "Unwrapping Our Gifts" series where she shared one of her family's
Christmas Jar tradition
-- just another great idea I've picked up from Tasha! Tasha is an energetic, homeschooling mama of twin boys who also makes time to bake, decorate, design, encourage, and inspire. I love the recipe she's sharing here today--so much so that it is on my baking list for this Saturday's dessert party. Now if I can just get Tasha to fly from Texas to NC to enjoy with us...
---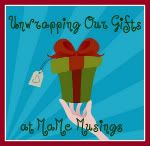 I am so excited and honored to be a guest blogger for the second year of Melissa's "Unwrapping the Gifts" series!!! I have been following Melissa's blog for a while now. We share a special bond....Momma to twins!
Last year I shared our
Christmas Jar Memories
. Today I want to share my thoughts about making memories at Christmas. Specifically making memories in the kitchen. I LOVE to bake! It brings me joy to be in the kitchen baking up something good for my family. I love to see the smiles on their faces when they taste that cookie, muffin or slice of homemade bread.
And I love making memories for my family. At Christmas it just feels natural for me to be in the kitchen. And before I even know it I am making a memory for all.
So what does memory mean.........................
It's been said that each day of our lives we make deposits in the memory banks of our children. I know this to be true.
I have special memories of being in the kitchen with my Momma. I also have memories of laying in bed early in the mornings hearing her in the kitchen. I knew she was in there preparing something amazing for our family. It is a fond memory of mine to see/hear my Momma in the kitchen.
For as long as I can remember I have made a point of allowing my boys to "help" me out in the kitchen. But it was not always easy to just let them help. And sometimes I had to really bite my tongue. Kids are messy, but I wanted them to have fun and learn about baking/cooking, without me constantly taking over. I hope they will remember those times in the kitchen with me when they are older.
I hope they remember the aprons I wore. Maybe they will have a memory of Momma's fingers covered in cookie dough. Maybe they will remember all the spills and laughs over flour covering the counters and floors! I'll bet they remember pulling chairs up to reach the counters. Little memories.
Around Christmas we have special sweet treats that our family loves to make. I reserve these special treats just for the holiday season. And the main reason is I want it to be a memory they have of Christmas.
The boys usually come and ask, "Momma, when are we going to make _____?" They remember it from the year before and know it is only made during this joyous time.
Children love to help in the kitchen. And what better time then around the holidays when there are so many YUMMY/kid-friendly treats to be made! Let them get their hands dirty and help Momma out. Make a memory!
Maybe you are not a fan of being in the kitchen. Or maybe you just don't have lots of time to spend making all kinds of special treats. No worries. There are plenty of delicious pre-made cookie mixes and easy little treats for your children to help with. I am going to share a super EASY recipes (if you want to call them that) with you today.
Holiday Pretzel Treats:
Salty pretzels combine with sweet chocolate!
What you'll need
Bite-size, waffle-shaped pretzels
Hershey's Kiss or Hershey's Hug
M and M's candy
Camera for documenting memories
How to make it
Heat the oven to 170F. Set a number of bite-size, waffle-shaped pretzels (one for each treat) in a single layer on a cookie sheet lined with parchment paper, then top each pretzel with an unwrapped Hershey's Kiss or Hershey's Hug.
Bake for 4 to 6 minutes (the white chocolate will melt more quickly), until the chocolates feel soft when touched with a wooden spoon. Remove the cookie sheet from the oven and quickly press an M and M's candy into the center of each Kiss.
Allow the treats to cool for a few minutes, then place them in the refrigerator to set, about 10 minutes. Remove from fridge and give each child at least two to start with. Take pictures and enjoy a memory made!
You must always have a kiss with a hug...or vice versa.
Other super easy treats:
Granny Snacks
Peppermint Fudge
My secret to Easy Holiday Cutout Cookies
Quality time with your kids is a treat when you invite them into the kitchen. There is so much for them to learn from YOU! And so much you can share with them. From baking basics to family recipes reserved for Christmas. It's all about the memories and what we are depositing into that little memory bank.
So start making memories and Holiday Pretzel Treats together right now.
From our kitchen to yours The Fontenot Family wishes you all a very Merry Christmas with lots of sweet memories!!!!!