and because I have too much to be grateful for to stop just because I ran out of days in the month!
#27 Today I am thankful for: my body (and good sense, common sense, and nonsense)
Today I turn 37.
Yes, I am owning every bit of my 37 years.
Sure, I have moments where I shake my head and ask, "How the hell did I get so old?" (Sorry, they say your verbal filter is one of the first things to go with age).
No, I don't wish I was younger really.
Despite the years, the stress, and the neglect, my body is hanging in there.
My
head
isn't as hard as it used to be.
My
hair
might have what my stylist called "platinum" strands, but I haven't pulled it out yet.
My
ears
don't hear quite as well as they used to, particularly when it comes to hearing kids cry in restaurants, but they can detect subtle toddler movements from three rooms away.
My
arms
aren't really toned, but they are buff enough to still carry two kids at the same time (that would be almost 60 pounds in case you are wondering).
My
hands
are still strong enough to clean up the number 2 Drew accidentally left on the floor this morning between diaper changes (Happy Birthday to me!)
My
tummy
might never see the light of day again but it has superhuman elasticity that stretched generously to hold a little over 16 lbs of babies.
My
legs
don't get shaved as often as they need to, but they still held me up quite well for a one-mile Thanksgiving Day Fun Run.
Yes, time has a way of taking away, but, the older I get, my
eyes
are seeing more clearly that it also has a way of giving back.
I think I'll keep my gifts.
---
#28 Today I am thankful for: the sense of smell (and live theater, desserts, and aunts)
Growing up, we always had a real Christmas tree. Shoot, I am not sure I even knew you could get fake Christmas trees until I was a teenager. (Okay, not sure if that's true, but when you get to be
my
age, you start embellishing the "back in my day" tales).
When I was finally out of my own and able to decorate my own tree, I chose an artificial tree. It was easy, cost efficient, and did I mention, easy?
This year we decided we
didn't have enough to clean up
wanted the kids to have the experience of a real tree.
Sure, it would mean sweeping needles for a month and forgetting to water the tree, but it would also mean we could experience the excitement of a real Christmas tree farm and the
smell
of a real tree.
Admiring the ginormous snowman at the tree farm
Heading out to the "woods"
Giving their stamp of approval to the tree selection
Carrying our spoils to the truck
Home at last
---
#29 Today I am thankful for: people and causes who inspire me (and rough drafts, good writing pens, and apple cider)
If you're new to MaMe Musings and you're wondering about what this button
is all about,
this post
is a pretty good summation of what Little Pink Houses of Hope is and why it is so important to me.
A small way I support Little Pink is through serving as a part of the grant writing team, and this week I was able to put my words where my heart is by drafting a portion of a grant application. This grant will help fund a local community outreach center that will be an additional service provided above and beyond the beach retreats.
If you or someone you know is currently undergoing breast cancer treatments or if you have a huge grant you'd like to award us, please contact
Little Pink Houses of Hope
.
---
#30 Today I am thankful for: Fridays (and family fun night, clean cars, and new tubes of toothpaste)
Friday.
Ah.
What would be better than a Friday?
Maybe a Friday at the beach.
Since that's not happening, I am going to settle happily for "feeling beachie."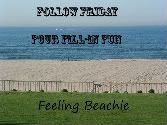 "/>
1. I have always dreamed of
moving to the beach and opening a small store.
2. My
ability to tune out everything when I am on my computer
is my
cheap escape.
3. I love to
clean
when I
I am stressed.
4. I will never forget
my husband's birthday again
with
all the grief he gave me that one time I did.