It's amazing how much blogging I can catch up on when I take Friday afternoon off work--if for no reason other than it's too hot outside to even contemplate moving too far from my recliner. Or maybe I am just mentally preparing for our weekend at the beach, which reminds me that I still haven't physically prepared by packing...
Regardless, here I am. Off work and on the computer.
While over at one of my favorite blogs,
Time Out for Mom
, I enjoyed her "Follow Friday Four Fill in Fun" so much that I decided to fill in my own.
Each week,
Hilary
lists four statements with a blank for you to fill in on your own blog. If you want to join the fun and come up with four fill- ins of your own, please email them to her at feelingbeachie@gmail.com. If used, she will add you as co-host to the hop! This week's co-host is Janice from
Janice's Footsteps
(she came up with the last two statements).
This week's statements:
1. I
almost always
wear
lipstick
. And most of the time, it is bright. I feel naked without it.
2. I have had a lot of
hairstyles
. Want to see proof?
Click here
.
3. Public speaking makes me
money
. First I was a teacher. Now I am a teacher coach who often facilitates professional development sessions for small and large groups. As a shy kid and an introvert, I often amaze myself at my ability to get up and present.
4. My car always has
a ton of crap in it
because
(1)I have two year old twins who bring a new toy with them every time they get in the car (2)I spend a huge amount of time in my car for work, which results in lots of crumpled food wrappers, empty coffee mugs, and work-related supplies I think I will need but usually don't.
Want to join the fill-in fun? Click on over, grab the statements and fill away! Then, help spread the fun by tweeting, sharing on FaceBook and adding the linky to your post…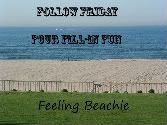 "/>