Please join me in welcoming Christina from
Finally Mom
to
"Unwrapping Our Gifts."
Finding Christina's blog was a gift in itself; in the wide world of blogging, it's always exciting to find a blog that resonates with you and leaves you anticipating more.
Finally Mom
is one of those blogs for me. Christina has the most beautiful daughter, Lovie, and her love for Lovie shines through everything she writes. She's also crazy funny, honest, and mighty talented with a camera. I am so touched by this story she is sharing today. Check it out, get teary-eyed, and then head over to
Finally Mom
for some more good stuff.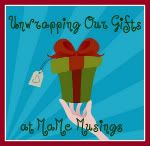 ---
My entire life, Christmas Eve has always and only ever been spent with my Oma (and Ota when he was still alive). No matter what happened, no matter who divorced, no matter who moved where, no matter the weather, everyone on my mother's side of the family would always, every single year, gather at my grandparent's home on Christmas Eve. And when we'd all arrive, we'd toast to Christmas with a shot (never more than two) of liquor. Every single year. And then we'd all gather around the table (really it's more like two or three tables placed next to each other and covered with tablecloths) and enjoy Schnitzel, potatoes, salads alongside a glass of Riesling for the adults and 7up for the children. Every single year. And then we'd move into the living room in front of the Christmas tree which would become the only source of light. Every single year. And then we'd sing (or hum) Oh Christmas Tree and Silent Night in German. Every single year. Then the lights would get turned on and we'd all give each other hugs and kisses, wishing everyone a Merry Christmas before opening a small gift. Every single year. And the kids would play with their new toys while the adults gathered around the table again to enjoy the vast array of cookies Oma spent half a year baking from scratch. Every single year. And then hours after arriving, with some children changed into pajama's, if not already sleeping, we'd all pile out of Oma's house and make our way back home. Every single year.
There's never any variance to Christmas Eve. Ever.
Until now.
Oma's 87 and not doing so well with her health. She's far too weak to bake for six months, far too weak to prepare a meal for 20, far too weak to endure more than a couple people at a time visiting. So this year, my 39th Christmas Eve, will be vastly different. I avoid thinking about it, really… because it saddens me immensely when I do. And that's just selfish of me, really. I mean, it's not like Oma isn't well to spite me, for crying out loud. And as sad as I am, and as much as I'm trying to avoid thinking about it, I can't avoid it. It's all I think about these days… especially since Lovie's birthday is just days after Christmas. While she'll only be 2, I have no desire to make Christmastime a dreadful time of year for her. But without a lifelong tradition to fall back on, what do I have to give her?
Well, it had to start somewhere, right? The Christmas Eve tradition of going over to Oma's (and Ota's) had to start somewhere. So why not start something new this year?
It's not that I want to change things up and start something new, but I kind of have to. For Lovie. I want her to grow up with traditions she looks back on fondly like I do; I want her to know that no matter what happens and where we are in life, something special and magical will happen at least once a year; I want her to grow up and know that she's always got at least one day a year to reconnect with her roots and really take a step back and appreciate who she is, where she comes from…
I want a world full of happy memories for Lovie to look back on, and those happy memories need to be made now.
So this year… my 39th Christmas Eve will be spent visiting with Oma, listening to Oma, hugging Oma, cherishing every moment we have with Oma. And then we'll come home and start a new tradition of having Christmas Eve dinner… at home. Just the three of us. The door will be open to others to come and maybe in years to come, the table will fill up more. But I suspect this Christmas Eve dinner at home, our first Christmas Eve dinner at home, will be an intimate one. There will still be Schnitzel and the fixings, but I do believe that's where the Christmas Eve I've known all my life will end.
But that's what happens when a new tradition begins… right?