I hope you are enjoying the "Unwrapping Our Gifts" series as much as I am!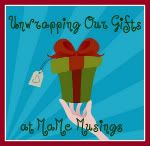 Today I am excited to welcome Chrissy to MaMe Musings. Chrissy and I have been friends since our first day of college, and through the years, we've seen each other through marriages, jobs, divorces, moves, dating, children, and everything in between.
She's the best friend that knows it all and loves me anyway. Although we don't get to see or talk to each other nearly enough, we always seem to pick up right where we left off. While Chrissy has many gifts, today enjoy a glimpse of Chrissy as the big-hearted mom that she is.
---
For the last several years, our family has spent part or all of the Christmas holidays in the hospital in some capacity:
• On December 29th 2007, our son, Liam, was born prematurely and spent 9 days in the NICU.
• On December 26th, 2008, we gave Liam peanut butter for the first time and he was highly allergic and we made an emergency room trip. Three days later (on his 1st birthday) he was hospitalized with pneumonia for 3 days.
• In December of 2009, our daughter, Olivia, had her tonsils removed. The next day (2 days before Christmas) we signed hospice papers for my father, who passed away on December 31st, 2009.
Needless to say, holiday time has not been the happiest for our family over the last several years. Last year, we were determined NOT to visit the hospital at all. In fact, Neil and I decided to do a quick NYC trip right after Christmas to get away. However, other plans were in store for us, as Liam was diagnosed with strep throat on December 22nd. A shot of penicillin SHOULD have done the trick, but when he was much worse the next day, our doctor suggested a trip to the ER for fluids. Imagine our surprise when we got there and his oxygen level was down to 85% and he was rushed to PICU.
Stunned does not even begin to describe our reaction. What started as strep throat turned into pneumonia in less than 24 hours. Our pediatrician said he had never seen anything like it. As the hours went by and we realized that it was December 23rd, we knew that there was no way we would be able to be home for Christmas, nor make our NYC trip. We were beyond devastated. It is bad enough being in the hospital, but on Christmas???
I get teary just thinking about it even now. We couldn't leave Liam's side, yet somehow Santa had to come, as our 3rd grader was just starting to question whether Santa was real, and we had to make it happen for her. How on Earth could we manage this? As reality set in, we knew that not only would this be difficult, but we wouldn't even be able to wake up at home Christmas morning.
As I cried and my husband sat numb, we were approached by the Child Life representative at the hospital. She explained that people from all over donate gifts each year for children who have to spend Christmas in the hospital. We would be able to visit Santa's toy shop and "shop" for both our children. The patients could receive 4 gifts and siblings receive 2 gifts. All children receive a handmade blanket, a book, and a bag of M&M's. We were taken the next morning to the toy shop and allowed to pick out these gifts for our children, and the Child Life volunteers wrapped them. The room was filled with brand new toys, games, puzzles, and stuffed animals. There was Christmas music playing, and a Christmas tree, lights, and other decorations. The hospital had done its best to make this a joyful occasion. Neil and I both left there in tears at the overwhelming generosity of total strangers.
Christmas Eve night, as I lay awake watching "A Christmas Story" and feeling sorry for myself while Liam slept, I decided to walk out into the hall. There, I met other parents who were doing the same thing, and we exchanged stories. One mother was with her 15 year old daughter who had been in the hospital for 5 weeks after being diagnosed with Leukemia. A grandmother was spending the night with her 2 year old grandson who had cancer. I began to feel a little less sorry for myself, and realize how blessed I truly am.
At around 2 am, our doctor (who happens to be a mom at our dance studio) delivered our Santa gifts. She also informed me that Liam would be released to go home later that morning, so while we were not going to wake up on Christmas morning, we would be home for Christmas.
While I was overwhelmed with happiness at this news, I could not help but feel a little sad. Sad for the other children who would not get to be home on Christmas. Sad for the parents whose children were facing life-threatening illnesses.
We got home around 11am Christmas morning. We were exhausted, but grateful. My mom and step-dad had gone to our house and wrapped gifts and put them out so that Santa was able to come. Instead of Christmas morning breakfast, we had Christmas lunch. Liam was still a little weak, but enjoyed opening his presents. After the chaos had ended, Neil and I sat back and realized how truly blessed we were. It took a terrible experience to make us realize what we have. We also agreed whole-heartedly that from now on, we will shop for toys and deliver them to the hospital so that others may experience what we had.
This year, we are looking at things differently. We still hope to have everyone well for the holidays. We have already been in touch with the hospital about donating gifts, and have talked with our children about how we will do this so that they are involved as well. No child should have to spend Christmas in the hospital, so we also pray a little harder for sick children everywhere. We are so blessed and hope that everyone out there has a Merry Christmas!
Liam opening his Christmas gifts from the hospital on Christmas morning.
---
Emily and Drew are happily donating some of their unopened toys to
UNC Children's Hospital
. If you're in the Raleigh area, we will gladly come by and pick up your donation. Just give me a call or send me a message.
---
Have a favorite Christmas movie? Want to win a copy? Join our
GIVEAWAY
!