Today I am thrilled to introduce one of my best blog buddies, Mandy from
Twin Trials and Triumphs
! Mandy is mom to beautiful twin girls who are almost three. The first thing that comes to mind when I think of Mandy is her positive attitude. Even her title speaks to her optimism: "Life is a balancing act. Thank goodness the triumphs outweigh the trials." I learn something from her every day: tips for potty training, appreciation of the little daily miracles, or ideas for a new craft. Truly, my only complaint about Mandy is that she doesn't live in NC…I think we'd get along just swimmingly over a nice latte!
And, here's one last testimony to Mandy's greatness—the recipe below has inspired me to cook. And, if you know me, you know that's a big deal!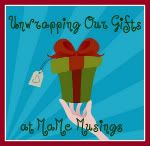 ---
I loved Melissa's idea of celebrating the gifts we all possess, and I enthusiastically emailed her about being part of her blog series. Still, as I write about what I consider (and what I hope!) are some of my "gifts", I can't help but feel a bit uncomfortable, like I'm being boastful. I hope this post doesn't come across that way…and if it does, I hope I can at least make it up to you with some yummy peanut brittle!
Several years ago, my then-boss engaged about twenty of us in a team-building exercise. He had us anonymously write things down about each of our colleagues. He compiled the lists and shared them with everyone. Of me, someone wrote, "She appreciates the job others do, so she can do her job."
I think I know who wrote that…a lady who helped me out in a pinch at work, for whom I promptly made a big batch of chocolate chip cookies, knowing they were her favorite.
Still, bribery aside, that comment has stuck with me for almost 10 years now. I considered it such a compliment, and I hope I can continue to live up to that standard…to appreciate the roles so many people around me play every day.
In the words of the Beatles, "I get by with a little help from my friends," and ain't that the truth.
And from an African proverb, brought into the American mainstream by Hillary Clinton, "It takes a village."
It's important for me to teach my girls to be loving towards our friends and family, of course, and also to be respectful of the people in our community…to show our appreciation for the impact they, too, have on our lives.
During the holidays, I spend a lot of time in the kitchen. Outside of family and close friends, we don't buy that many gifts, but I like to share a little bit of homemade goodness with the people who make our lives a little bit easier.
I make baskets of treats for all my husband's colleagues, and we deliver plates of goodies to our neighbors. I hope this year my little elves will be up for a little caroling, too! And we share the holiday bounty with our doctors' offices, the vet, our mechanic, the wait staff at a couple of our favorite restaurants, and the guys who collect the garbage with a smile and a wave to our girls each week, rain or shine.
It's not much, but I hope that a tin of yummy sweets, along with a hand-written note of thanks, lets these folks know how much we appreciate them.
I vary most of my goodies every year, but peanut brittle is a staple, year after year. I wouldn't share this recipe on my own blog, as I can't risk giving away my secret to people who know me "in real life", but I hope my friends in the blog world will accept this as a token of how much I appreciate them!
Microwave Oven Peanut Brittle
1 ½ c. peanuts
1 c. white sugar
½ c. light corn syrup
1 Tbsp. butter
1 tsp. vanilla
1 tsp. baking soda
In a large glass bowl, combine peanuts, sugar, and corn syrup. Cook in (700W) microwave for 6-7 minutes on high; mixture should be bubbly and peanuts browned. Stir in butter and vanilla and cook 2-3 minutes longer. Quickly stir in baking soda, just until mixture is bubbly. Pour immediately onto greased baking sheet or foil. Let cool 15 minutes. Break into pieces and store in airtight container.
[I use salted party peanuts without the skins. I microwave for 6 ½ minutes first, and then for 2 ½ minutes. I use an 8-cup glass measuring bowl – with a handle – so it's easy to pour.]
So there you have it…a delectable (AND EASY) holiday treat. Just don't tell the manager at the pizza place how simple this recipe is…it's OK by me if he happens to think I poured hours (not just minutes) in the kitchen to make his gift.