Come on. It's okay to admit it. You know you need it. You want it and certainly deserve it.
We all need a little
Time Out for Mom
and here at MaMe Musings, I want to make at least one of your Christmas wishes come true. So today, I am happy to unwrap the perfect gift for all of us busy parents by bringing you a sweet Christmas message from RoryBore at
Time Out for Mom
. I must admit the title of her blog drew me in the first time, but it's RoryBore's poignant writing, down-to-earth humor, and encouraging spirit that keep me coming back on a daily basis. So sit back, put your feet up, and savor a little time out for mom (or dad or grandma or aunt or…well, you get the picture). And, because we all like gifts that keep on giving, hop on over and check out
RoryBore's blog
!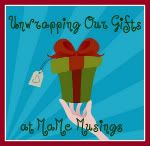 ---
The moment I read about Melissa's Unwrapping Our Gifts blog series, I felt a little thump in my heart. Actually, first I felt a little jealous, because it is such a fantastic idea that I wish I had thought of it first! But then I immediately started thinking about all the wonderful memories, traditions, recipes, crafts, present wrapping skills, and gingerbread house making tips I could share. There are so many things that require our special talents in order to make the season grand. So much we have to do.
Or do we?
Just like the Who's…..what would happen if we woke up on Christmas morn to discover it all gone? No presents. No trimmings. No tree. No feast. Nothing. Just….us?
My family has been meeting on Christmas Day for as long as I can remember. It started at my grandparents' old farmhouse, and then moved to their beautiful retirement home nestled amidst a 50 acre sugar maple bush. If there was snow, Grandpa would hitch up the team, and off we went for a sleigh ride through our own winter wonderland. Oh sure, no matter the location, there was a tree, decorations, a huge feast you would have had to have seen to believe, and even when I was married with my own children; I still received a card with money inside from Grandpa and Grandma. But the best part was that we were simply all together on the holiday……all about 50 or 60 of us.
Then, first grandpa was gone and then one Christmas, grandma too. And the beautiful home in the trees. No big picture window to sit at and watch the horses play in the snow in their paddock, or the wild birds coming to the feeder. There would be no marching out to the bush to find the 12 foot Christmas tree. And *gasp* none of Grandma's legendary home-made buns to go with the feast. Already heart-broken over loss, I wondered: would there even be an "us?"
Traditions may start out as a lovely idea, and then grow into a habit that you either barely tolerate, or look forward to with eager anticipation. If you are really lucky – or blessed as I would say – they became such a part of you, that to lose one, is akin to losing some vital part of your heart and soul. Once upon a time I thought that my grandparents were the glue that held us together. When they were gone, I discovered that it wasn't just them at all. They passed a legacy on to us that is far more valueable than any shiny ornament, blue ribbon recipe, beautifully adorned tree, or costly gift. The gift of us.
We still meet every Christmas Day – someone is always willing to host our huge clan. Now it is my children who red-nosed with cold swing on the hayloft swing until the call to dinner sounds. Once again we will gather around a big harvest table, bow our heads for Grace, and express our thanks for this most wondrous, miraculous of days. My children will steal desserts, and sweets from the gingerbread houses my cousin made, run and laugh with their cousins, and leave full bellied; but empty handed. They will not even be aware of this.
Many things may change over time. But not the faces of those who are most dear. Nor the memories I hold most dear. I have one teacup of my grandmother's, one horse show trophy of my grandfathers: but my precious family – like my precious Saviour born this day – are more than an heirloom to me.