Happy Friday, y'all! Can you believe we only have three more Fridays after today before Christmas??

Today is a special Friday for other reasons, too. First, I am technically not here. My computer and I are miles apart as Marty and I are now on our way to a secluded location as part of my 3? birthday celebration. The babies are being spoiled by staying with their Aunt Windy and Uncle Tom. So—this post is being auto-scheduled--my first "scheduled" post ever. I am also doing a special Unwrapping Our Gifts post today even though it's not Tuesday or Thursday. And, to celebrate all of this specialness and the fun spirit of this guest post, I am hosting a giveaway--because, hey, it's Christmas time—the most special time of the year!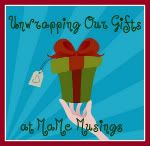 Today I am excited to welcome Rebecca of
DVR Dame
to MaMe Musings. Since having the babies, DVR is the only way I ever watch anything (and I don't watch much). Rebecca, with her gift for entertainment, keeps me up-to-date on what's going on with her pithy quotes from great shows, analysis of pop culture news, and flashbacks from the past like Punky Brewster and Cabbage Patch Kids. She is the busy mom to two boys, yet she still carves out time to keep other busy moms like me up on the other important stuff—like True Blood and the Christmas movie schedule. Please welcome Rebecca as she shares some of favorite holiday movie quotes!
---
Holiday Movie Quotes
It's that time of year when the holidays are kicked into high gear. The frantic race to Christmas has begun which may leave you feeling worn-out. Don't worry this dame has an indisputable remedy to cheer you up. How? I have the gift of holiday cheer!
Since I'm a little bit of a TV and pop culture buff I decided to compile the ultimate list of holiday movie quotes. I didn't want to bore you with a list of online holiday deals because there is like hundreds of those sites. Besides that's already been done to death. Don't you think? So grab a bag of popcorn and get ready to enjoy yourself.
A Christmas Story
Santa: "You'll shoot your eye out kid."

It's A Wonderful Life
Clarence: "You've been given a great gift, George. A chance to see what the world would be like without you."
The Santa Clause
Scott Calvin: "Can we take a direct flight back to reality, or do we have to change planes in Denver?"

Christmas Vacation
Clark: "Can I refill your eggnog for you? Get you something to eat? Drive you out to the middle of nowhere and leave you for dead?
Elf
Buddy: "We elves try to stick to the four main food groups: candy, candy canes, candy corn and syrup."

Christmas with the Kranks
Spike Frohmeyer: "You're skipping Christmas! Isn't that against the law?"
A Charlie Brown Christmas
Charlie Brown: "Isn't there anyone who knows what Christmas is all about?"
How the Grinch Stole Christmas
Grinch: "That's the one thing I hate, noise, noise, noise!"
Jingle All the Way
Myron Larabee: "We get one day a year to prove we're not screw-ups and what do we do? We screw it up."
Scrooged
Earl Cross: "All day long, I listen to people give me excuses why they can't work…My back hurts, my legs ache, I'm only four! The sooner he learns life isn't handed to him on a silver platter, the better!"
Rebecca
http://dvrdame.blogspot.com/
*
Credit for all images
---
Want to win your choice of one of the movies quoted above? Just leave a comment here or over at
DVR Dame
telling us your favorite holiday movie or quote! I'll run the giveaway until next Friday, December 9, which will give me plenty of time to get it in the mail to you before Christmas!