Does all of the holiday shopping, cooking, cleaning, wrapping, and running around have you feeling all out of sorts? Grab your favorite hot beverage, sit back, and re-center yourself with today's
"Unwrapping Our Gifts"
guest blogger, Jen, of
We're Living a Full Life
. Jen is one of those inspiring women who lives life fully, embracing and growing from its beauty and its challenges. No matter where her travels take her, like New York or Barbados, her heart is at home with her family and friends. Here Jen shares how she celebrates the true gift of friendship each year with her closest girlfriends. Read, be inspired to call up your girls for an evening of wine and good food, and then head over and check out Jen at
We're Living a Full Life
!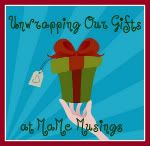 ---
When Melissa e-mailed and asked me to do this guest post for her blog MaMe Musings I was thrilled. Sharing a bit of what goes on around my home sounded like to much fun to turn down!
Our holidays have gone through many changes over the years but one thing has never changed and that's my love of entertaining. I love to have company and I love to cook so I thought that might just share some of that with you all.
Oh! My name is Jen by the way.... I can usually be found over at my blog
We're Living A Good Life
writing most every day.
I moved down south and settled in Virginia with my husband Bill and our five kids about twenty five years ago. Although not the first to move from New York, many of our extended family has since spread up and down the east coast. I have two brothers who live in two different states with their families. Take it from me this makes the big family gatherings like those my parents hosted every Christmas when I was a child and when my children were little impossible, but a pleasant memory all the same.
Christmas 1987
So there were new traditions to be made for our holidays. Now we always Christmas Eve with very close friends and our Christmas Day with our children who are all grown up now and hopefully not working (please pray) along with our adorable and loving grandchildren and my Mom who lives next door. I love my family and like most mothers and grandma's the weeks leading up to Christmas is a busy crazy time. Cleaning, cooking, baking, decorating, shopping, visiting, attending church functions, social functions, family obligations all seem to pile one atop the other don't they? I sometimes wonder how I did it all with five kids at home, then I remember I was younger then!!
my grandchildren
Jillian-Emanuel-Xavier and Adam
Now that I'm older and maybe a bit wiser, I set aside one evening; sort of my gift to myself. What do I get you ask - what do I do? I give myself one whole night, and have dinner party with my gal pals, no kids, no husbands, good food and lots of wine!
I love to entertain; it's something I inherited from my parents who were wonderful hosts and fabulous cooks. Entertaining is so much more than just putting a meal on the table especially at Christmastime. I like to have the house look just right; but I have a confession to make I'm not a fan decorating anymore. When my kids lived at home I found the task of decorating enjoyable, but now I only find enjoyment in the results. I love the way my house looks with shimmering lights and garlands strung from the balcony add to that, Christmas music softly playing in the background and the tree lights glistening and it just creates a certain mood it this house.
This idea of a dinner party makes for such a great evening. Good food and a little wine, some nice music to get the conversation flowing and before you know it hours have flown by and the evening is over.
I feel truly blessed to have these women as friends they are a delight to spend an evening with. We share a bond; we've raised our kids together from grade school through high school to college and beyond. Some of our children went on to graduate school, some married some are still single, and some of our groups still have young ones. But we all share these things in common even after all these years, our kids are either friends or are friendly, we love our community, we have a strong faith and we really enjoy each other's company.
These are my friends!
Wondering which ones me?
I'm at the head of the table on the right.
Somehow facing all the rest of my Christmas shopping seems a bit less daunting now that I've had my evening with my friends. I rather like the fact that the girls see this as a yearly ritual and look forward to this night every December. And I see it as gift I get to give them and I get to enjoy it too; how good is that!?
I truly believe everyone has something special and unique that they do over the holidays with their family or friends; why don't you share yours in a comment?
Till next time Jen