With Thanksgiving behind us and Christmas before us,

MaMe Musings

is excited to introduce our first-ever holiday series: Unwrapping Our Gifts. Each Tuesday and Thursday between now and Christmas, I will be welcoming a special guest blogger. Each guest has generously offered to share an idea/story/tip/etc. that illuminates his/her individual gifts and is related to the holiday season in some way.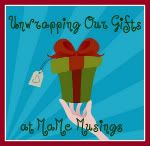 Today, I am excited to welcome Ginger from
(not) Just Another Mom of Twins
. Ginger has many gifts. She's a supermom to 22 month old boy/girl twins, a talented scrapbooker, a writer with an awesome sense of humor, the wife to an equally hilarious man, a master of organization, and a cook not afraid to enlist the help of her local grocer. I am lucky to count her among my bloggy world friends. Her post on
believing
and
giving
is perfect for kicking off the series. I think you'll agree Santa is
real
.
---
Hi there Melissa and her bloggy world friends! Thanks for inviting me over for a "coffee n' chat". I was so excited when you asked me to do a guest post for the holiday season, especially when you told me that you thought I had so many "gifts" to share
(insert huge smile of gratitude)
. I've thought long and hard about what I wanted to "talk" about and I have decided that I want to tell you about the best gift I have ever received in my life.
The gift of Believing & the Joy of Giving.
To get to the heart of my story I have to first share with you the shock of my life I experienced when the
"IS HE or ISN'T HE REAL"
question came up for me as a child.
Rewind about 30 years...
It was a long time tradition at my house that my mom and I would gather in her room and wrap Christmas presents. I looked forward to this most. Aside from Christmas morning, of course. I fancied myself as a "professional" gift wrapper. I learned at a very young age the "art" of cutting the paper ever so perfectly so that the corners would fold "just right". I loved to don the parcels with ribbons and bows galore...sometimes to the extremes, read tacky. Anywho, the way it would work is that my mom would sit on one side of the bed
(on the floor)
and wrap and I would sit on the other side, so we couldn't see each other's gifts we were wrapping. I was always responsible for wrapping her friends gifts and that somehow made me feel
really
important.
SHE
in-trusted me to wrap the gifts she was giving to her bestest friends....WoW! When we were done each gift we would place it up on the bed and admire one an others "talents". I never paid much attention as to who's presents she was wrapping, I was far more interested in comparing my "wrap job" to hers.
(I always thought mine was far superior...for the record...LOL!)
I was probably about 8 or maybe even 9 years old when I looked over and read the tag on one of the gifts she had wrapped...I was
SHOCKED
.
Here is the conversation that ensued, the best I can recall:
Me-
"To Ginger, From Santa. WHAT? How can this gift to me, be from Santa?"
All of a sudden all those comments I had heard for years from the kids at school flooded back into my mind. The ones where the kids talked about how Santa wasn't real. I was one of the few who never paid much mind to those statements and would often challenge and "defend" the big fat guy's validity.
Mom-
"Ummm.....Ummmmm....I thought you knew?"
Me-
"Knew what? That he isn't real. Are you telling me he isn't real?"
In hindsight, I was being overly dramatic about the whole thing. But in my defense, I felt like my entire existence was now in question.
How could THIS BE?
Mom-
"I really thought you knew."
Poor mom. She felt so bad.
Me-
"I guess I do now."
I was so defeated. Sad.
Mom-
As always, my mom knew just what to say,
"Santa IS real Ginger. He lives in our hearts and he is the spirit of receiving but more importantly, of giving. Santa will always come to our house, every year, as long as you believe."
I was positive that had I stopped believing at that very moment, Christmas would be forever ruined. I never questioned if Santa was real again.
Never.
And so this bring me to the best gift I have ever received
,
the gift of Believing & Giving
. You see, I understood the complex nature of what my mom was saying; that the spirit of Christmas, aside from the birth of our Lord Jesus Christ, was about giving the gift of "believing" to others. How glorious.
That Christmas, I bought my Cabbage Patch doll tons of presents from Santa. All the gifts I purchased for my parents...
yup, you guessed it
...they were from Santa too!
I remember feeling such elation and joy.
Santa had come for my "baby" and my parents that year. Because of me! Because I believed and the spirit of
GIVING
had truly "rang" true in my heart.
That was the best gift I have ever received.
From that moment on, Christmas became less about receiving and more about giving
(Oh! And the pretty wrapped presents too...LOL!).
I know
THAT
question is going to "come up" in my house one day when Ave & Bryce ask me with big wide eyes if
Santa is
REAL
. I plan to tell them the
exact
same thing my mom told me and I can only hope that they embrace the spirit of believing and giving the same way I did. That they see
that
as the best present they will ever receive. At the very least, I hope that I get it right from the start...that Christmas is more about giving than receiving. I pray that I can get that right.
Merry Christmas Everyone!
---
It's not too late to put your gifts under MaMe Musings' tree! Interested in contributing a guest post? Get more details
here
!