Today is the second installment of Unwrapping Our Gifts, where each Tuesday and Thursday between now and Christmas, I welcome a special guest blogger who has generously offered to share a holiday-inspired idea/story/tip/etc. that illuminates his/her individual gifts.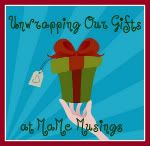 Today I am excited to welcome Tasha from
One Day at a Time
. Tasha was one of my first blogging friends and one of the first people to extend a helpful, supportive hand to me when Drew was diagnosed with infantile scoliosis. Nurturing is certainly one of Tasha's many gifts. She's also a cook who can make a pumpkin into a feast, a crafter who can make an acorn a work of art, a woman with an eye for style who can rock a pair of boots, and a mom who knows how to make learning fun for her two sweet boys. I am sure you will love Tasha and her blog as much as I do.
---
I am so excited to be a guest on MaMe Musings today!!! Melissa and I "met" earlier this year and I have been a follower ever since. I love reading her blog to see what those sweet babies are up to. It brings back lots of memories for me since I have SIX year old twin boys. Plus Melissa just has the knack for drawing me in with her style of writing. But you all already know that!
Before I share some Christmas fun let me tell you a little about myself and my blog. My name is Tasha and I blog over at One day at a time....
I am a stay at home momma, have been since my boys were born and love it! I also homeschool our boys. I enjoy anything simple----crafts, cooking and decorating. I love working in our gardens and just being outdoors in general. And I LOVE making/baking anything with sugar!! We have an addiction folks. I am working on our December goodies list right now! A whole month of a sugar high!
When Melissa ask me to share a gift I wasn't sure what exactly I had to share.
"Me, do I have a gift to share?"
I suppose I do. I think everyone has a gift they can share. For me it is sharing what makes me happy. What makes my family happy.
And a gift is something you love to do. I love to make my boys smile and have fun! It's all about memories. Throw the magic of Christmas into the mix and this is right up my alley!!!
Now on to the FUN!!! Christmas time is such an amazing time of year. But we all know how busy it can get. The hussle and bussle....pure craziness sometimes!!
For our family we try to keep things very simple to avoid missing the
real
meaning of this time of year. Last year I wanted to make memories.....something the boys would always think about when it came time for Christmas. So I started what we call "Christmas Jar Memories".
This is so easy you will likely have everything you need to start a family tradition this year!!!!
First off gather your family together. Have a pen and paper on hand. Talk about, discuss and write down ideas/things you want to do during the month of December.
As a family
. Make this time during the week, only on the weekends or both. We do both, but keep them very simple......key word here is simple!
Next, type or write each idea on a piece of paper. I print them out on the computer(in a cute font of course!)and cut them apart. Find a jar or some sort of container and put all the ideas into the jar. A pretty bow is optional, but I insist you add something to it to make it special.
Now decide how often you will pull from the jar. The children take turns pulling out an idea. As well as Mom and Dad. I like to pull an idea the night before "in case" I need to make a trip to the store for supplies and such.
Here are some of our ideas for this year.
The one thing I want to do is make it FUN! And not spend lots of money. Memories are of the heart and you do not have to spend a lot of money to make them. My goal as a mom is to leave the boys a legacy of FUN memories at Christmas.........not a legacy of "stuff" under the tree.
I hope I have inspired you to make a "Christmas Jar" this year and fill it with FUN memories for you and your family.
What's in your Christmas jar?
I hope you find time to come visit me over at
One day at a time
during December as I share our Christmas Jar Memories. Thanks so much to Melissa for having me over today!
Merry Christmas everyone! Now get to making a family memory!
Love, Tasha
---
It's not too late to put your gifts under MaMe Musings' tree! Interested in contributing a guest post? Get more details
here
!