Do I get points for posting us in our first weddings?? hahaha!!
Only a best friend from way back could post such a funny reply to my recent Facebook link to my
Wedding Fever! Link-Up and Giveaway post
.
Yes.
This wedding
wasn't my first.
But I have poured my heart out about that here
.
I candidly replied to said friend's post that "some things are better the second time around."
Like husbands
.
---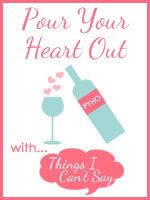 ---
Want to share your (first/favorite/only/last/best/worst) wedding? Link up
here
.