Today I am joining Shell at
Things I Can't Say
for her wildly popular Rockin' the Baby link-up.
Thanks, Shell, for a good reason to post some of my all-time favorite pictures of my babies! If you get a chance, click over and visit some of the other blogs and babies. Be forewarned: there is a strong chance you will catch baby fever!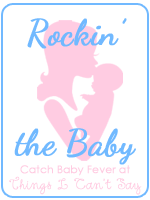 Holding my babies for the first time...
I love their expressions...
Nap time in the boppy...
Some of my favorite images from their newborn session (photos by
Lifelong Impressions
)